Now that I have your attention, I'd like to call your attention to Hamell on Trial's impending show, Thursday, June 3rd, at Club Café in the South Side.  I know what to expect.  I expect the same good time I had the last time I saw him there.  Granted, that was a few years ago now, but I have faith in him.
I say this partially because I also have faith in the venue.  While I wouldn't want to see a pyrotechnic metal band there (come to think of it, I doubt I'd want to see a pyrotechnic metal band anywhere), I know from personal experience that Club Café is a great place to see an acoustic act.  Intimate setting, nice sound, good beer on tap, and, as of less than a year ago, excellent food.

The story goes that Ed was on his way to a gig here back in 2000, but was in a car accident on the way which incapacitated him for the better part of a year.  When I saw him in '04, he did the classy thing and refrained from mentioning this; one can assume that he holds no grudge against Our Fair City.
The phrase "acoustic act" doesn't quite do Hamell on Trial justice, however.  "One-man band" doesn't quite cut it, either, even though in concert, he is just a guy with an old (1930's vintage) acoustic guitar.  To appreciate him fully, you have to view his live, solo acoustic work in the context of his recordings, because he lets himself have a lot more fun in the studio.  Here is a particular favorite of mine, with Ani DiFranco (whose label he's on) helping out…
Let's call that song, "Pretty Colors", Exhibit A.  Ed Hamell is an example of a particular breed of artist for whom I hold a particular category of affection – artists upon whom I have imprinted my own personal label of "in-your-face lyrical-grace."  Reader, feel free to use that yourself.
Since I saw him last, Ed became a father.  He proceeded to release my personal favorite album of his, titled, Songs for Parents Who Enjoy Drugs.  Please don't take the simpleminded view of the title.  In Ed's own words, "This isn't one of those Barneyed-out, 'I've got a kid, isn't that precious?' kind of albums.  I'm trying to make the point that we left-wingers have to breed. There's too much breeding going on with the right." Indeed, Ed interspersed songs such the above "Pretty Colors" with amusing observations about being a parent – common experiences any parent can relate to, regardless of politics.  "Inquiring Minds" is one such song, addressing the conflict some parents face when torn between presenting a positive role model for one's child while silently and fondly reminiscing about one's checkered past – this writer speaks from personal experience.  Here's that song – you'll see what I mean:

Elsewhere one the album, Ed enlisted his three-year-old son as a secondary vocalist for touching renditions of that old nursery school standard, "The Wheels on the Bus," albeit with some verses I've never heard, such as, "The junkie on the bus goes puke puke puke," but then again, that's what you can do when equipped with a poetic license….
Political commentary is, unsurprisingly, another key component of Ed's repertoire.  "Values", for example, ties current events and child rearing together when he points out that with all the chaos in the Middle East, what's the point of making his kid pick up his toys?  This thought crosses my own mind sometimes as I go into benevolent dictator mode; one can only imagine what an audience of Belgians was thinking when they heard the song, but it obviously worked for them:

Ed was popular in Europe before he was popular in the US, but for different subject matter.  He seems to have started out as sort of a punky Tom Waits, telling tales of the street in a way that made it seems as if he was the one holding the sawed-off shotgun, when he was more likely just playing the part of the street poet in the same way that Waits use to play the unshaven piano jockey.  Since then, he has concentrated more on firsthand anecdotes and observations, making his work, in my opinion, more enjoyable – not that I wouldn't mind hearing a couple of those earlier streetlife serenades, either.
It's a few years later now.  I haven't heard anything Ed's come out with since Songs For Parents Who Enjoy Drugs.  According to his website, however:
Ed is currently writing and posting a new song EVERY. SINGLE. DAY. As of April 19th, 2010 he's up to #213 in his Songwriting Marathon…We've recently compiled our first batch of favorite tracks from the first 100, and cleverly titled it 15 OF 100. (This can be downloaded on his website)
I'm going to live dangerously and post this piece before downloading it for myself, just because that's how I roll, but regardless of what I hear between now and June 3rd, I'll be there.  Trust me—Ed's one of those guys who makes you see the world in a new way.
When is the show?
Thursday, June 3rd
(doors open at 10:00pm)
Where is the show?
Club Café (map)
56 South 12th Street
Pittsburgh, PA 15203
(412) 431-4950
How much to get in?
$8.00 (get tickets here)
How old do you have to be to get in?
21 and over!
In his early 20s, Mr. Hamell was the front man and writer for an original band, but local bands were a dime a dozen in the tough, working class neighborhoods in Syracuse, NY. So he launched a one-man act called "Hamell on Trial." Armed with his battered 1937 Gibson acoustic guitar, Mr. Hamell toured the country. In 1995, Mercury Records signed him straight out of the SXSW Music Conference. A few years later, and a move to Brooklyn, NY, brought Mr. Hamell and Ani DiFranco together. He signed with Righteous Babe Records.
---
The Review:
Whenever I see a show anymore, it's always the end of the night that sticks with me.  Last Thursday at Club Café, the lights were on (pushing 1 AM) and the crowd was thinning out.  Ed Hamell, a.k.a. Hamell on Trial, was out by the door, doing the meet-and-greet, hoping to sell a few CD's, for which no one can blame him.  I had never in my life seen an eight-year-old child sitting at the merch table, certainly not at one in the morning.  "Buy some shit.  Meet my kid," said Ed, as his show was drawing to a close, so I did.
I certainly don't want to sound like I'm passing judgment.  It's none of my business whether or not it was a school night, or how much sleep the kid had been getting.  I will say that while I didn't talk to the kid while I bought a CD from him, he did seem sufficiently friendly, well-adjusted, and medication-free, at least in pantomime.
The exit scene did have one touchy moment, when the lovely lady standing next to me asked Ed to sign her breast.  Anywhere, anytime else, nobody would have batted a bloodshot eye at such a request.  Then and there, however, everyone who had heard looked over to the innocent child.  With all eyes back on (different parts of) her, she told him to close his eyes.  (I didn't notice if Ed was using a Sharpie.)
For me personally, that whole scene distilled Ed Hamell to his essence, as I have a couple of kids myself.  Ed said on Thursday night that people have a habit of asking about him, "What's wrong with him?"  Are they concerned about hiscerebral and cardiovascular well-being when they see him performing, or are they wondering what kind of dad he is?  I should have requested the one new song of his I especially wanted to hear, "Ode to Parents at the Bus Stop," which I believe is only available as a download (See his website), because it's a song that sheds additional light on this question, from both angles.  He talks about waiting at the bus stop with his son, and how he looks at the other parents standing there with their kids and knows that none of them are people who would like his music if they heard it.  ("You'll never vote on your phone / At $1.99 / Like American Idol / For utterances such as mine.")  And yet there he is, riding that same ragged edge of disaster as all the other breeders.  I feel a sense of kinship with him in the morning, as I drive slowly past a school bus in my own suburban Shangri-La, blasting Ed's new album at one step below the threshold of pain (with the windows closed, of course.)
Stand-up comedian Ron Placone warmed up the crowd.  That's not all that odd a move in itself, if you think about it.  Anybody who stands up there with nothing but a microphone and an acoustic between him and the audience HAS to be part stand-up comedian or the crowd will get real restless, real fast.  I didn't keep track of how long Placone's monologue was, but it wasn't long enough to lose the crowd.  He has an annoying habit of repeating himself; he has an annoying habit of repeating himself, but he did make me laugh a few times.  One joke worth sharing, during an extended piece on job interviews:  he is, of course, a team player, in that "every team has a guy who sits on the bench and doesn't do jack shit."   I might use that.
Ed came on immediately afterwards, and wasted no time owning the room.  "Sugarfree" must be his standard opener, because it's the same song that opens his live CD, 'Ed's Not Dead—Hamell Comes Alive!' It's a good opener, though, showing off both his apoplectic vocal mode and his power-saw acoustic guitar work.
A note on Ed's guitar.  I don't know who made it originally, but I do know, from Hamell lore, that it dates back to 1937.  It reminded me of Willie Nelson's guitar, where one can plainly see the dangers of playing without a pick guard.  Ed's guitar has one of those, but it's also had a good deal of its varnish stripped away.  The way Ed plays his instrument, one expects it to explode into smithereens mid-strum, but the guy who was at the show with me, who is both a woodworker and a guitarist, says he noticed some acrylic augmentation.  This made me feel better, as up until then I was concerned for the welfare of the people in the front row, even though another, less altruistic, part of me was glad they were there.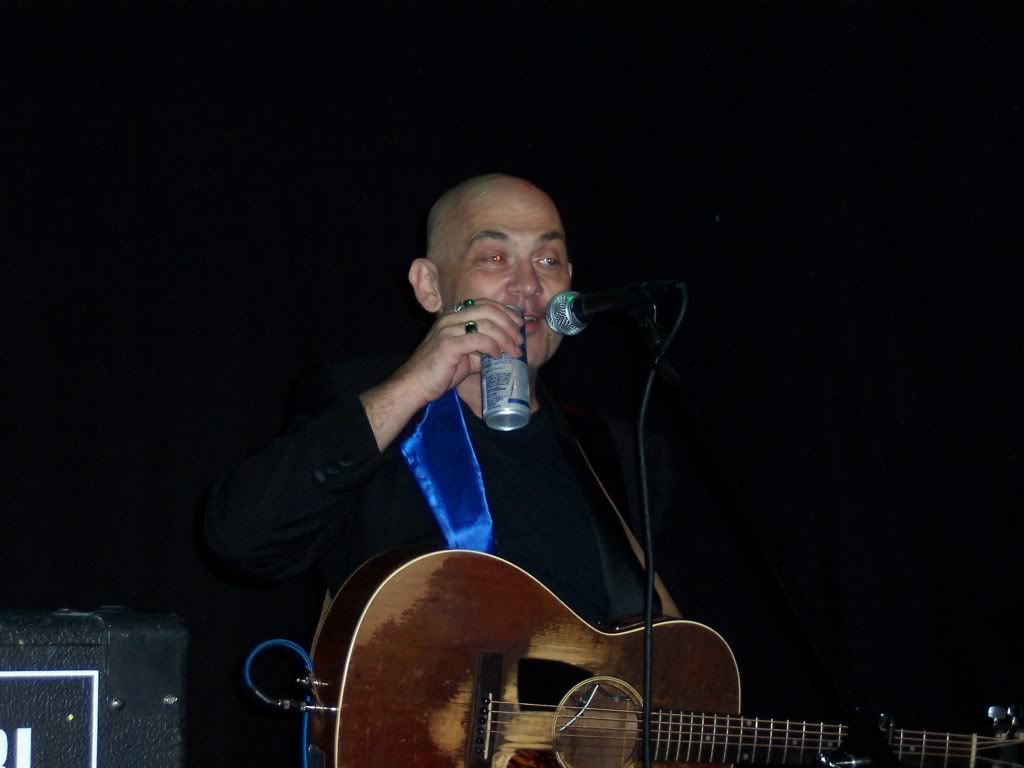 Ed went right into "Inquiring Minds" for his second number, a song in the vein of the aforementioned bus stop song.  (In my preview piece, I discoursed at some length on that song, so I'll refrain from repeating myself here.)  It seemed to go over well—it's probably a reliable crowd pleaser the way "Sugarfree" is—even though Ed came across a bit as if he's tired of singing it.
"Hail," from 2003's 'Tough Love' was up next, prefaced by an extended spoken interlude covering any number of subjects, greeted by much laughter from the audience.  In reference to the song, "Hail," which he had introduced perhaps fifteen minutes previously, Ed eventually said "Why won't you bum us out with the hate crime song?"  Eventually, he did get around to a nice reading of a moving piece about Teena Brandon (the subject of the film Boys Don't Cry) and another, less well-known hate crime victim.  As a listener, Ed may often seem to be assaulting you, but he will also make you think, and that's Ed Hamell for you—he'll throw f-bombs all over the place and rant and rail on all sorts of idiocy and hypocrisy in the world, then he'll catch you sideways with something that'll just make you shut up and sit and listen.
Another funny patter-in-between-the-songs piece dealt with Ed's experience working for a pizza-delivery joint, in his 40's, and having a nineteen-year-old boss.  ("You know the expression:  beat him like a red-headed stepson?  They wrote it for him.")    I wrote down the gag, but I forgot to write down what song it prefaced.
That's something else about Ed that you just have to accept as part of the package.  You wonder sometimes if you're there to hear songs or the jokes in between them.  I'm not sure Ed himself draws much of a distinction; for him, they're probably just different components of the performance.  He's certainly not the first acoustic performer (Note I didn't say "folksinger?") I've ever seen whose songs were only part of the act.
However, just as there are times when Ed seems to be tired of the song he's singing, one could say the same about his comedic interludes.  He had one funny little routine about loading up on espressos and Snickers bars to prepare himself to come out and play—a routine I appreciated much less when I heard it again while driving home, on the live CD, from 2001, which I had just bought from him.
Ed's political material (sung and/or spoken) does a little less for me.  "Coulter's Snatch," where he calls into question the personal hygiene of the reprehensible Ann Coulter (she who once called the 9/11 widows "crybabies"), has never been a favorite of mine, for example, as good of a shocker line as it is.  Maybe the subtlety of it escapes me, but I can't help but wish he'd aimed for her mouth and what comes out it instead.  Similarly, another extended routine about Barack and Michelle Obama and their bedroom practices wouldn't have made the Howard Stern show.
Toward the end of the night, someone requested "Some Hearts," which also appears on the 2001 live CD.  Ed said he hadn't played it live in quite a while, and I'm inclined to believe him, as he flubbed the lyrics a couple of times, but he got through it admirably.  It was a moment of unplanned, seemingly spontaneous poignancy—the full line is "some hearts need a lot of loving"—and Ed used it to bring the show home on a touching note.
I only noticed one walk-out.  Ed noticed him, too.